! This template DOES NOT Put the title of the writing space in the browser window title. > <! It does not have "children" only next page and previous page. > <! Begin the body of the Web page. Give this page a white background. >

<! DO NOT Begin the Web page with the title of the writing space, centered, as a level 2 header. > <! The content of the writing space. >

Storyspace by Eastgate is an hypertext writing system. The interesting aspect of Storyspace is that you can see visually maps that contains your text. The Macintosh version is much better than the Windows version. The main difficulty in the Windows version lies in the fact that export to HTML is quite cumbersome.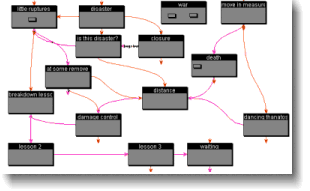 <! This table is just a fancy horizontal rule. > <! Everything from here on down is navigational apparatus. > <! Reduce the font size by 1. > <! If this is not the cover page ... >
. <! ... then add a link to the cover page, anchored on the "home" button named "../homebut.gif". This GIF file should be present in "root", the directory that contains the top-level HTML file for this HTML export. > <! If any basic links lead from this writing space ... > <! ... then add a list of the basic links, formatted as a table with one row, with the caption "Related pages". > <! End of the basiclinks if statement. > <! In a small font size, formatted as a citation, add information about this writing space. >

This page was last modified on 18 May 2002, by Rigas Arvanitis,and was exported to HTML on 16 Jun 2005 using version Storyspace 2.0.1 of Storyspace for Windows.

<! End of the Web page. >